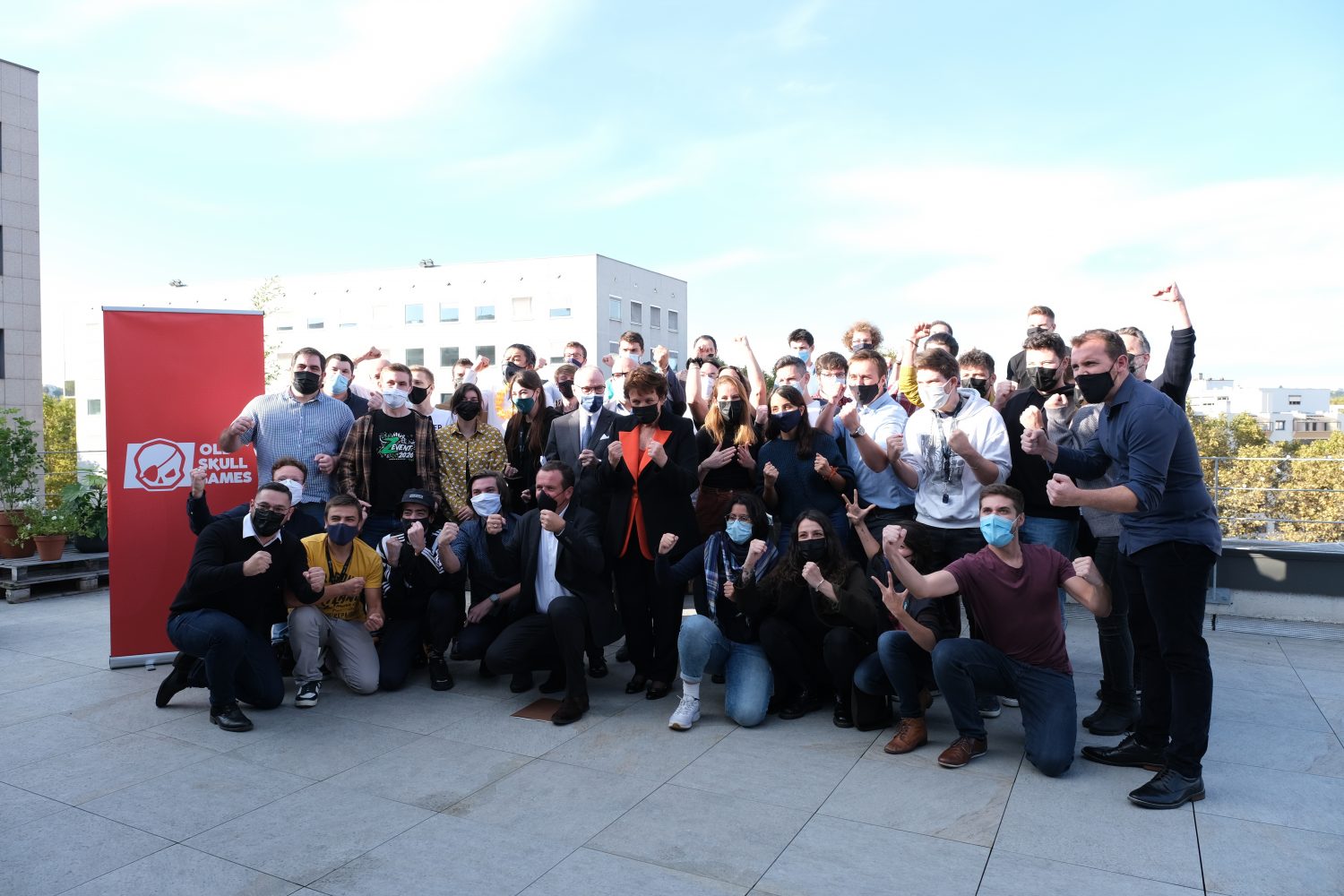 The French Minister of Culture, Roselyne Bachelot, visited Old Skull Games last Friday to see what a video game studio looks like. She was able to test our latest game released with Nickelodeon on Apple Arcade, SpongeBob: Patty Pursuit.
A Studio Tour
We first gave her a tour of all the jobs in our studio, and the Minister was able to talk to some pirates about their jobs.
After she first passed by Laura's work station, our 2D concept artist who showed her all the concept art and sketches of SpongeBob SquarePants environment, the French Culture Minister then spoke with Amandine, our 3D artist who showed her how we went from 2D to 3D and which tools were used.
She then had the opportunity to talk with our lead programmer Antoine who explained how he integrated the 3D sets into the game, and then she was able to understand the producer's job with Nicolas and his beautiful planning boards which were used to organise all the production of the game Tiny Worlds.
The minister then looked at self-publishing and the jobs around marketing and communication by discussing with Eléonore who showed him the work done in general to create the community around our games.
At the end, our QA Tester Marco was able to let her try SpongeBob Patty Pursuit that she seemed to have appreciated quite well.
A time for exchange
Afterwards, several institutions joined us in our offices to discuss with Roselyne Bachelot about the current state of the video game industry in France.
It was the opportunity to talk mainly about the future of video games in a roundtable that gathered SELL, SNJV and the CEOs of nearby studios such as Million Victories or Ubisoft Ivory Tower.
By the end of the minister's studio tour, she was able to declare "I am the minister of video games", thus putting the video game back in its place as a cultural industry here in France.
The day ended with a photo of all our pirates and the minister in one of our ritual posings!